Providing a more sustainable workplace
Corporate Responsibility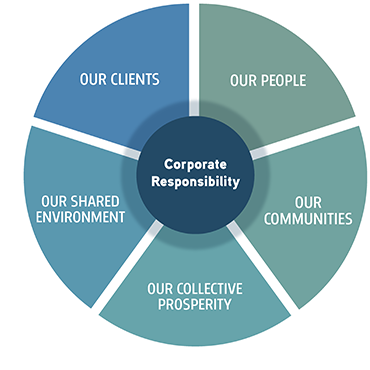 Ricondo strives to be a responsible business—one that adheres to high legal, moral, and ethical professional standards—as we solve the most challenging issues facing the aviation industry today. As a responsible business, we recognize that our ability to thrive in an interconnected and competitive environment depends on five critical areas.

Our Clients
We serve clients as we want to be served.
Leveraging our vast experience, deep roots in aviation, and the latest technologies, we solve our clients' long-term needs with ideas, expertise, and an unbiased perspective to transform their airports. Over 90% of our assignments are from repeat clients, evidence of the quality of services we provide, our professional reputation, and the trust we've built.
Our People
We believe employees are at the heart of our business.
We attract, train, motivate, and retain the industry's most talented professionals with a passion for aviation—and have an unwavering commitment to equality and diversity, cross-disciplinary training, staff development, and work-life balance. We value the health and wellbeing of each Ricondo team member, demonstrated by wellness activities, ergonomic workspaces, and robust benefits. Ricondo is 100% employee-owned, giving all staff the opportunity to share in our success.
Our Communities
We support the communities in which we live and serve.
Aviation is a community business—and we believe it's essential to actively support all the communities we touch. We integrate stakeholder considerations into client services, strategically partner with industry organizations, serve as industry thought leaders, provide meaningful opportunities for minority, disadvantaged, and women-owned businesses, volunteer in the communities where we live and work, and support charities through Ricondo's annual donation program. 
Our Collective Prosperity
Our clients' success is our success.
We believe it's essential to provide our clients with the right solutions, but with an eye toward efficiencies. To that end, we look for cost-effective measures, train staff across disciplines to nimbly and efficiently respond to changing client needs, and incorporate technology and methods to improve speed, productivity, accuracy, and cost.
Our Shared Environment
We have a shared responsibility to protect our planet.
At Ricondo, we're mindful of our environmental footprint in every office we operate. Offices actively seek ways to conserve electricity and water, recycle electronics, paper, and products, and reduce waste, among others. We aim to reduce the impact of travel on the environment by encouraging web-based meetings with clients whenever possible and incentivizing public transit commutes.